Already registered? Enter your email and password:
Getting started

Dispensing private prescriptions

One advantage that dentists with private patients have over their NHS colleagues is the option to dispense medications directly to their patients. When you do this, you can make a handsome profit, whilst at the same time providing a service that your patients appreciate. From the patient's point of view, they are receiving their prescription immediately, without the necessity of having to go to a pharmacy and having to wait whilst their prescription is being processed. Most pharmacies have a minimum charge for providing a private prescription; rather than the pharmacy pocketing this profit, you could be doing so.
With most medicines coming in patient pre-packed boxes, often in varying quantities such as 15, 21, and 28, the process of dispensing is very straightforward. Each item being dispensed needs to have a label indicating the name of the drug, the instructions on how to take the medicines, the date of supply, your practice details, and any special instructions peculiar to that medicine, such as to avoid alcohol when taking Metronidazole.
Writing all this by hand onto a small label is not always easy, but is important to do so accurately or you may be faced with legal action by a patient if they perceive that they were not dispensed their medicines correctly and had any adverse effect.
A solution
To avoid this, Aroschem UK Ltd, a pharmaceutical supplier dedicated to the dental market, pre-prints your labels with your practice details and the relevant information for each medicine you dispense. These are supplied free to anyone ordering their medicines from Aroschem UK Ltd. Your patients appreciate the professional look that this gives your dispensing.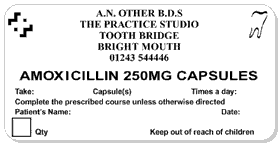 Profitable business
Now to the important issue of profit. You are at liberty to charge what you deem appropriate for supplying medicines to your private patients. To take the current NHS charge of £9.00 as a guide, if you were to charge this as a minimum for some of the cheaper drugs, then your profit margin will be in the region of 400 per cent plus. Taking Amoxicillin as an example:
• Charge to patient: £9.00.
• Amoxicillin 250mg box of 21 purchased from Aroschem UK: £1.25.
• Profit: £7.75.
This represents a significant profit margin, which you are giving away to a pharmacist if you do not dispense the medicines yourself.
What to remember
It is important to obtain drugs as long dated as possible so that slow moving medicines don't go out of date whilst sitting on your shelves. Aroschem UK Ltd keeps this in mind when sourcing its supplies.
There are some specific things to be taken into account with regards to controlled drugs. The Home Office keeps a check on who is supplied with controlled drugs. It is wise to keep these stored under lock and key and to keep a simple ledger of stock in and stock out so as to be above reproach. ArosChem UK Ltd requires any dentist purchasing controlled drugs to fill in a requisition order with a signature of the purchaser to comply with Home Office regulations.
If there are any questions that you need answering on the subject of dispensing, please feel free to contact Aroschem UK Ltd which has been supplying the dental market with approved drugs for over 10 years. The company has the added benefit of having the back up of qualified pharmacists to call upon for advice.
So, don't put off becoming your own dispenser and start earning those lucrative profits in the knowledge you are providing a valued service to your patients. Contact Aroschem UK today with your practice details and GDC number to register as a customer and receive a product price list with special offers
Further information

Prescribing private prescriptions

The following PDF documents contains useful information covering the prescribing of private prescriptions by dentists.

When can dentists supply medicines?

How should dentists prescribe, store, order and dispose of controlled drugs?
Information prepared by UK Medicines Information (UKMi) pharmacists for NHS healthcare professionals.

Emergency Drugs

The following PDF document provides guidance and recommendations concerning common medical emergencies in dental practice. It describes medical risk assessment, resuscitation procedures and equipment, and the use of emergency drugs in general dental practice. It also includes topics such as staff training, patient transfer and post-resuscitation/emergency care

Medical emergencies and resuscitation

Specific emergency drugs should be immediately available in all dental surgery premises.


To manage the more common medical emergencies encountered in general dental practice the following drugs should be available:
· Glyceryl trinitrate (GTN) spray (400micrograms / dose)
· Salbutamol aerosol inhaler (100micrograms / actuation)
· Adrenaline injection (1:1000, 1mg/ml)
· Aspirin dispersable (300mg)
· Glucagon injection 1mg
· Oral glucose solution / tablets / gel / powder
· Midazolam 10mg (buccal)
· Oxygen
Infomation prepared by Resuscitation Council (UK)